At Hear Again we are very excited to announce the arrival of the Starkey Livio AI, the worlds first Healthable hearing aid that tracks brain and body health.
Enjoy superior sound clarity, comfort and universal connectivity. Our advanced technology, Hearing Reality™, helps you hear in the most challenging environments. With Livio®, you get the industry's smartest rechargeable solution in our best sounding, best performing device ever.
This revolutionary new device offers:
Body and brain tracking
Fall detection and alerts
Virtual Assistant
Language translation
Rechargeable option
Voice to text transcription
Call us now on 27220439 or 99948859 for your suitability assessment.
It's not very often we can truly witness a revolution in hearing health care, this might just be it!
To hear comfortably in challenging environments

Hearing Reality™ is effective in even the noisiest environments, comfortable in loud settings and quiet in quiet settings, and allows you to enjoy newly enhanced speech clarity.

The convenience of adjustments on the go

Easily make adjustments to your hearing aids anytime, anywhere with the Thrive™ app.

Rechargeable and reliable hearing aids

A small rechargeable device with 24 hours of superior hearing on one charge.*

*Only available in RIC Rechargeable style. Results will vary based on wireless and feature usage.

Better wireless streaming

New technology provides consistent wireless performance through your smartphone or wireless accessories while streaming cell phones, TV, music and other media.

A solution for single-sided hearing loss

Great sound quality, clarity and consistency with new CROS technology that allows streaming between your hearing aids.

Hearing that happens intuitively

Geotagged memories that automatically switch modes when the GPS feature in your smartphone detects you are in a tagged location. For example, a "home" memory activates when you arrive at home.

Hearing that's personalized for you

Personalized Control in the Thrive app that lets you make adjustments to suit your preferences in different listening environments.

No buzzing or whistling

Our best-in-class feedback cancellation system providing feedback-free, comfortable listening all day long.

Durable, dependable hearing aids

Surface™ NanoShield, our pioneering water, wax and moisture repellent system, to protect and ensure durability and dependability.

Music the way it was meant to be heard

A whole new way to experience music – adjustable via the Thrive app. Now you can hear every note the way the artists intended – with pure, refined sound quality.

Customizable tinnitus relief

Advanced MultiFlex Tinnitus Technology, adjustable via the Thrive app, to bring relief to those who suffer from ringing in the ears.
Thrive Hearing Control app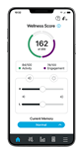 Livio intuitively connects to your Apple and Android devices via Bluetooth technology and Starkey's easy-to-use Thrive Hearing app. Thrive offers additional features designed to enhance your listening experience anywhere you go. Learn more about the Thrive Hearing Control app
Hearing aid accessories
Our new hearing aid accessories are powered with wireless connectivity to help users fully engage the world around them. Easily stream audio from your TV and a variety of audio sources directly to your hearing aids. Learn more about hearing aid accessories
Smartphone compatibility
The Thrive Hearing Control app lets you easily connect your Livio® AI and Livio® hearing aids to your Apple® and Android™ devices.
Apple® compatibility
Thrive Hearing Control app runs on iOS 11 or higher. For best performance, we recommend using the most current iOS version. iOS UPDATE NOTE: When updating the version of iOS on your iPhone, the hearing aids may lose connection, requiring you to un-pair and re-pair the hearing aids with your iPhone. The following devices have been tested for compatibility:
iPhone XS
iPhone XR
iPhone X
iPhone 8
iPhone 8 Plus
iPhone 7
iPhone 7 Plus
iPhone 6s
iPhone 6s Plus
iPhone 6
iPhone 6 Plus
iPhone SE
iPhone 5s
iPad Pro (12.9-inch 2nd generation; 12.9-inch 1st generation; 10.5-inch; 9.7-inch)
iPad Air 2
iPad Air
iPad (6th generation; 5th generation)
iPad mini 4
iPad mini 3
iPad mini 2
iPod touch (6th generation)
Android™ compatibility
Thrive Hearing Control app runs on Android 6.0 or higher. The following phones have been tested for compatibility:
Samsung Galaxy® S10
Samsung Galaxy® S10+
Samsung Galaxy® S10e
Samsung Galaxy® S9+
Samsung Galaxy® S8+
Samsung Galaxy® S8
Samsung Galaxy® S7 Edge
Samsung Galaxy® S7
Samsung Galaxy® S6 Edge
Samsung Galaxy® S6
Samsung Galaxy® Note 9
Samsung Galaxy® Note 8
Samsung Galaxy® Note 5
Google Pixel 3
Google Pixel 3 XL
Google Pixel 2
Google Pixel 2 XL
Google Pixel
Google Pixel XL
Google Nexus 6P
Google Nexus 5X
HTC 10
HTC 9
HTC One M8
HTC One M7
HTC U11 Life
LG LV-30
Motorola X4
Thrive Hearing Control app streaming functionality with smartphones running the Android operating system requires the Starkey Hearing Technologies Remote Microphone +.
We are constantly evaluating Android products and their compatibility with our hearing aids. Due to the complex nature of the Android platform and many different types of products utilizing this platform, we test each product separately and will provide compatibility information as we complete our rigorous testing.